Happy Monday morning, Everyone! I can't tell you how incredibly excited I am to announce the very first series hosted here at Elegance & Elephants. It's an idea I've had for a long time, and now it's finally becoming a reality.
Have you ever seen an awesome shirt, dress, pants, etc in a store or online for the little one(s) you sew for, and wished you could figure out how to make it yourself? Save some money and make it your own? Or maybe it's something one of your favourite fashion icon (or their kid) has worn? Well, all next month, an amazingly talented line up of designer moms are going to do just that: knock off a look, garment, or accessory, and show how they did it! How cool is that?! All childrenswear...all knock offs...all November!
And anyone can join in the fun and show off their knock off in the Knock it Off flickr group. I will be selecting as many of your submissions as possible to feature each Sunday in November. Please link to your blog (if you have one) and include a photo of the original in your post, so we can compare.
Here's the line up of designers:
I cannot wait to be inspired by what each one of them is going to share!
So, get searching...get pinning...get brainstorming...and KNOCK IT OFF!
Grab a button: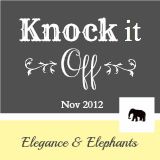 <div align="center"><a href="http://www.eleganceandelephants.com" title="Elegance & Elephants"><img src="http://i1117.photobucket.com/albums/k586/Tobanj/knockbutton_zps31112283.jpg" alt="Elegance & Elephants" style="border:none;" /></a></div>